Took the kids to Malahide park yesterday. I think there must be have been something in the autumn/winter air because despite taking the kids regularly there, it was a little nostalgic this time for me.
As a kid, I use to play in Malahide park and grounds all the time. It was our second backyard. Me and the kids tracked through the forest and found the old glen where the younger me with others use to put a dangerously high rope swing.
Walked by the old church ruins that my brother and myself would sneak into and climb to the top. (Can't do that now though, they took all the surrounding trees and opened up an Avoca cafe across the way, everyone would see what you were doing now).
And then after the playground we tried the new Avoca cafe which is super-fancy and like the other Avoca we've gone to and really jarring to my memory of the place. The Fry Model Railway used to be there, which was a bit quiet and grotty even. Also the hot chocolate is very expensive for what it is but we did some a number of peacocks in the gardens.
I wonder what happened to the little cafe in the castle itself now. I used to occasionally go there as a teenager. Big arches and a low ceiling and the walls were covered with old pieces of armour and weird old melee weapons.
We walked back a different route but it was getting dark at 4.30pm. Not that my sister and myself didn't know the way, even in the dark, but the kids started getting freaked out by the shadowy trees and the crows constantly flying into the sky. I thought it was quite impressive, but that's me. And then we had one of the park rangers freak us out in his car with flashing lights to tell us the park closes at 4.45pm and he closed all the gates.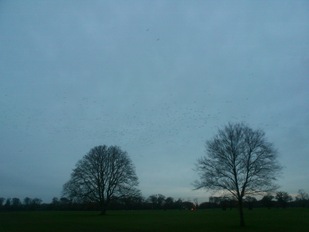 Not that we were the last. Passed by joggers, bicycles and a woman walking her dog. I never knew the park closed so early but it was dark by then I guess so it makes sense. And all the fancy rails and stuff they had put up, didn't really stop me getting the kids out pretty easily by climbing the wall and lifting them over.
Originally posted over at G+ on 12/11/2012
Related Posts: