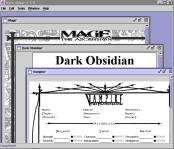 Myth Maker is a Character Sheet Editor for Pen and Paper Roleplaying Games. It uses Java and XML technologies.
The character sheets are very close to the original published character sheets. New character sheets can be added by using XML scripts. You can edit, save and print the character sheets, modify values etc.
Version 0.0.6 is the last version of MythMaker. It is version 0.0.5 repackaged with any new scripts that were created. No future versions are planned.

If your after the java source code for Myth Maker; it is included in the download.
I haven't picked a license from the plethora of free licenses models out there. But basically it's free including source code. If you want to devolpe further with it just drop me a mail and ask. You can pass it on, delete it, print it out etc. etc. as long as I get the credit, i.e. link to my website or my email etc.
Character Sheets Supported
Character Sheets supported:
World of Darkness (1.0)

2nd Edition
2nd Edition Revised

Dark Obsidian
Shadowrun (2nd Edition)
Installation instructions
This is permanetly beta so it comes with the usual warnings. If it does stuff to your machine tough - not my fault

To install Myth Maker you need to have a valid JVM running on your machine. It must be at least JRE2. You can download the latest Java runtime for your OS from here.
Also this is a graphical application so it wont run in just console mode. I.e. you'll need a graphical OS.
MythMaker-0.0.6.zip (3 megs) - This is just the jar and associated files. Extract them to the directory (using your favorite zip utility) you want to keep Myth Maker in and then run it by using java from a console:
java -jar MythMaker.jar
(In newer versions of windows and the JVM, you can also just click on MythMaker.jar like any other executable).
Screenshots
Here are a few screenshots of Myth Maker (0.0.5/0.0.6) in action.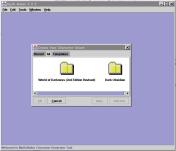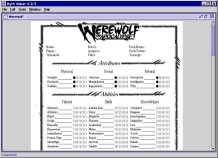 Related Posts: