not the same
. I understand now how fishing can be enjoyable without actually catching anything. I found myself getting all "geeked-out" while lining up my drawing pencils and sharpening them just right; the point has to be sharp, but a long bit of the lead has to be exposed too. (Pictures and more after the jump) .
Before my holidays, I had decided to go back to basics with my drawing. I had let my basic drawing skills languish over the years. So I got myself a rather excellent book on drawing:
"The Complete Guide to Drawing and Illustration". It's a well thought out course, designed to get you drawing full pictures straight away and build up a strong process. Drawing is simply a skill. Art is in the expression and the composition. Everyone can draw so I bugs me a little when someone says "I wish I could draw", because they can, they've just decided they can't. I shouldn't get so irate about it though as it's this exact mentality that made me consider my drawing as a secondary way to creatively express myself (writing became my first). In school there were a number of very talented artists, who were simply better. As I went through school, I ended up comparing my results to their work and found it lacking. Rather than try and improve and ask for help, I did the teenager thing and sulk about it and since then I've let my love of drawing dwindle.
The introductory text reminded me of exactly why I like drawing. My wife says that I'm a man of simple pleasures, it's not what you draw or the end image that is important but it's the act of drawing that gives you pleasure and capturing "something" in the end result, an expression, a tone or a strange shape. Drawing, in itself, is not complex but is engaging.
So with this long holiday planned, I decided to pack my drawing stuff. I was excited about picking up my pencils and pens again. Chargey is in the east of France, lost in the country side and properly soaked in the summer sun. The house is old, several generations, filled with old paintings and antiques going back to Napoleon times. A great place for finding subjects to draw.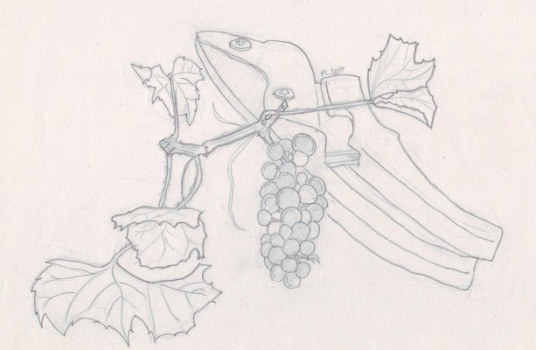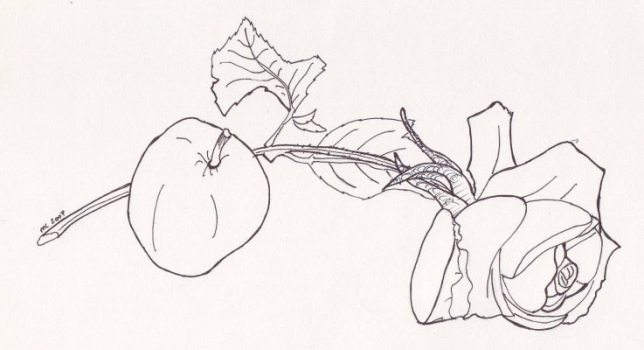 Then the book suggests using ink, pens and brushes to do this kind of work (outline drawings) as it's often quicker to finish. Pens are something I've been playing with for years and do love the finishing part of a such drawing, where you've done all the scratchy guidelines and then you draw the lines in single confident marks with the pens. I even have professional markers, but I still have barely mastered them. I didn't have any brushes or ink with me so that's something I'll explore now at home, if I get the time. He also suggested a simple tip to give an ink outline drawing a more complete feel: make some of the lines thicker. You can see my effort to do a rose and apple above. I actually think the image would work much much better if I took out the apple and oriented the image vertically. With some computer magic I could do it easily, which is one of the reasons ink appeals to me.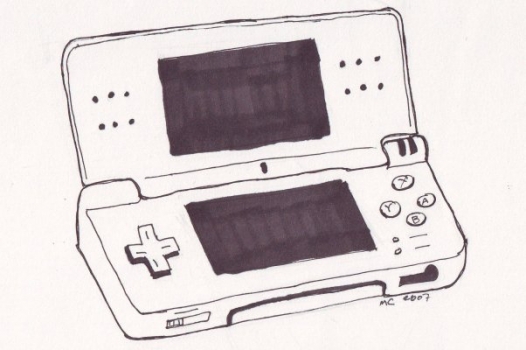 And then I tried some graphic design using block black shapes. As I said I didn't have any brushes so I used markers to fill it in. And yes, the image above is my Nintendo DS Lite which does happen to be white.

It was fun and fairly quick to do. So you have, composition, shape and texture. There is one component missing. Tone. From shadows and highlights to the natural colours of the objects. It's been so long since I've done a tone drawing and it was great to be given a process to explore shadow again. And the book thought me to use an eraser as a drawing tool, not just something to clean up mistakes. To capture highlights you can use an eraser's edge, another element of tone that I had previously struggled with it. In the book, Peter suggests filing an eraser to a point, however I have a more elegant solution: use a pencil with one of those rubbers built in on top. You can use the eraser just a like a pencil.

Below you can see the toned drawing I did. And I started to see how I can improve, not just in some abstract way, but in a solid practical way. The scale is slightly off and my angles are not right. You may not see it on first glance but the torch looks bent, the head of the torch looks tilted at a tigher angle than the base. Practice will improve that I hope.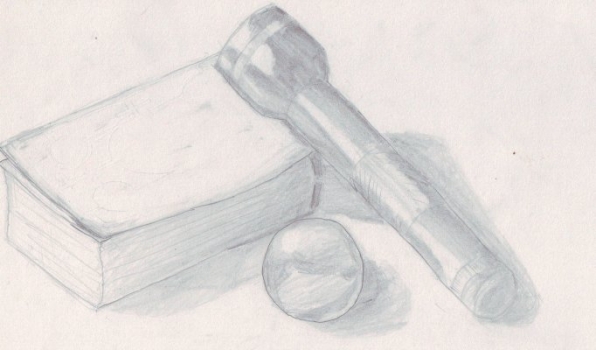 The big thing I learned is not to get so wrapped up in the end product. Enjoy the process of drawing. When I do, the image comes out so much better. If I aim, at least right now, to produce a specific end-result, the drawing suffers. Looking back at some of my previous work, I noticed that some drawings I did for a purpose, like attempts at doing images of other player's RPG characters, didn't turn out too well, but ones I did with no set purpose often capture
something
. (If you want to check out some of my other artwork, I've just installed a neat little plugin for wordpress to manage it:
nextgen-gallery
. You can now see all my artwork
here
.)
Related Posts: