Two weeks on and I'm still lacking much motivation. Things are getting up to speed though, shortly my daughter will be going back to school signifying the end of the summer and the routine will dramatically change again and in work, all our customers have returned from their holidays and have started dumping crap on us again. And it's taken me two weeks to just sit down to write this post. Shouldn't really take that much, but energy and focus have been lacking. I guess the dull weather since getting home has putting on a drain, especially when we had such lovely weather on holidays.
(More pics and drawings after the break)
When I was on holidays, despite only get one true sleep-in (as in I wasn't woken by the kids at 7am, my wife and myself took turns getting up to take care of the weeks) and despite the weather not being gorgeous all the time, I was rather productive. I wrote three new short stories. They are currently sitting on my laptop awaiting editing, but it was fun to just write and they are rather short. I will eventually get them up online, if you care to read them. I also spent a huge amount of time working on my Lost Heroes RPG: Book of the Gods. In total I wrote 27,288 words (is that a lot?), all for my own pleasure. I'm still chugging away at Book of the Gods, but my rate of progress has severely slowed (writing this post means I'm not working on it). But it's moving forward at least.
The holiday was great in general. It was nice weather most of the time, expect for one memorable storm that started suddenly with thunder and lightning in the middle of the day. Then hailstones the size of large marbles and ten minutes later, it's over.  An hour later, the sun has dried everything.
There was some family crisis, my poor wife hurt her back and shes still have some serious problems with it now, over two weeks later. It's slowly getting better, but I won't get into it. Besides that it was just good to get away.
I also got to do some drawing and painting, some of it came out quite nice, but I certainly didn't produce as much output as I have done in previous years. One of the quirks of the place we go is that there is no television, no Internet connection and we don't even bother to turn on the radio. It's absolute great to disconnect. I did try to "tweet" a little while away but it seems I forgot that a text message is longer than 140 so I ended up with loads of messages that cut out right in the middle! Anyway, I left behind any of the work I did create so I all I have of the stuff I did are these photos: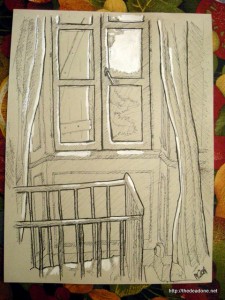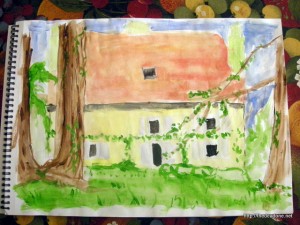 I'm not too fond of the watercolour though. I never finished it, becoming frustrated by the mixing of the colours (I couldn't produce enough consistent colours). I didn't get the chance to do another though. The great thing though about where we go is that its full of inspiring things! Books and posters from the Napoleon era, this antique box of gaming stuff, these old boilers in every room or this great big tower at the front of the house: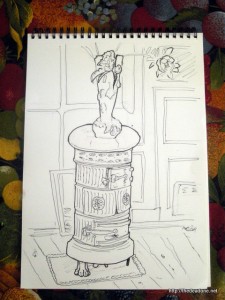 But holidays can't last forever I guess. And now I'm back in the real world. Go me!

Related Posts: